…and the moral of that story is that guys are fucking stupid. They just are.
Wait, let me start at the beginning…
During my time as a bachelor I lived with a few different roommates, one in particular lived with me for about three years. We were pretty tight, in fact he liked to get drunk and tell me that I was his brother and that he loved me (he was also a crier, so drinking with him was an exercise in awkwardness). We got along great and hung out all the time. He was a short, red-haired and good-natured fella that was built like a brick shithouse. He did have a weird habit of taking his shirt off and flexing any time a young lady was around though. Remember that scene in Transformers where Sam points the "new additions" in Bumblebee out to Vacuous Bimbo? It was a lot like that.
One winter night, he, I, and our other roommate entertained a couple of female guests. One girl was a friend of mine that I worked with and she had kindly brought a cute little brunette along who just happened to be named after a famous old-timey Country singer. We sat around playing a drinking game called "circle of death," I know it was a great game because I don't remember any of the rules. At one point roommate number three popped the top on roommate number two's beer bottle, forcing him to chug – he was unsuccessful. Foam came pouring out of his mouth and all over his best Chicago Blackhawks jersey so, in classic form, he took it off and started nonchalantly flexing.
He had made it clear to me earlier that he was hoping for some sexy-time with the new girl and was using his best moves to win her heart, or at least her underpants. Roommate number three was a hard and fast drinker and eventually went upstairs to get something and never returned. The first girl, my friend, got drowsy and curled up on the couch leaving just me, roommate number two, and the new girl still rocking. For some reason roommate number two decided that he needed to take a shower so he headed to the basement (there was only a tub on the main floor) at 3 A.M. to get spiffy.
Now, I'm a great wingman so I started telling the cute brunette what a great guy my currently soapy friend was and how, despite his odd bathing habits, she should give him a chance. Roommate number two, not being in the best mental shape due to the booze, only overheard enough to know that I was talking about him to his future wife and figured that it had to be bad. So, he did the only sensible thing there was to do. He stepped out of the shower, shampoo in his hair, and marched right up the stairs to set things right. He showed up with his bits in his hand and a fight in his eyes. The new girl hid behind me while her nude and sudsy would-be paramour started firing off expletives at the guy who had, only moments before, been singing his praises.
I tried talking him down, but that just pissed him off and he started getting even more animated. He waved his arms around, oblivious to his shame, and the girl and I were treated to the windmill motion of a cold and wet pecker framed by fire-colored pubes. He didn't get laid, for the record.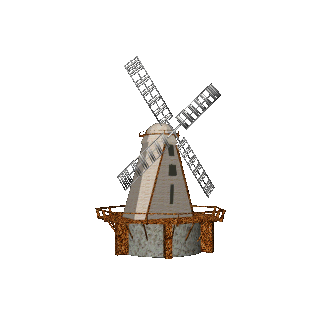 Exactly like this, but it wasn't blades that were spinning
"I'm gonna go," she whispered to me.
"Probably best," I replied. She woke our mutual friend and snuck out the front door while I tried to keep the birthday-suited Romeo occupied.
After she was gone I explained what had happened to him and he cried. He was sorry for assuming the worst about me and even more heart-broken for ruining his one shot at true love. It was a fun night and we never spoke of his penis again.